Okay, so you have finally reached that milestone in your life. You know the one I mean (RETIREMENT). You no longer have to get up early and drag yourself to that job you hated all those years. You know that boss you had, the one that enjoyed making your life miserable? Why you don't send him an email and let him know how you feel about him. There now, don't you feel better?
Now it is time to think about where you would like to spend those laid-back years you have in front of you. Let's see now, how about some place where the air is still clean and the traffic is light. Some place where you can relax in a lawn chair as you watch the deer eat your garden. Well, what do you know? I think I know just such a place. How about Oakhurst, California?
Oakhurst is a small-unincorporated town of about 13,000 friendly people. The town is located in the breath taking beauty of the Sierra foothills in the center of the state. We are only about 12 miles from the southern entrance of Yosemite National Park and 7 miles from the pine tree shadowed blue waters of Bass Lake. We are also in the heart of the historical gold country. In Oakhurst you will find two shopping centers with major brand grocery stores, drug stores, clothing stores and just about any thing else you would need.
People very rarely get sick in Oakhurst, but if you should decide to enjoy poor health, there are many fine doctors and dentists that will get you back on the path to good health. There's a Kaiser clinic for those covered under the Kaiser plan. If you should decide to go all the way and have something major like a stroke or heart attack, there is an emergency room that will put a band-aid on you and ship you to Fresno in one of our comfortable soft riding ambulances. If you don't survive, you can be assured of a great send off to that great place in the sky by one of our many fine churches. Yes, we try to cover all the bases.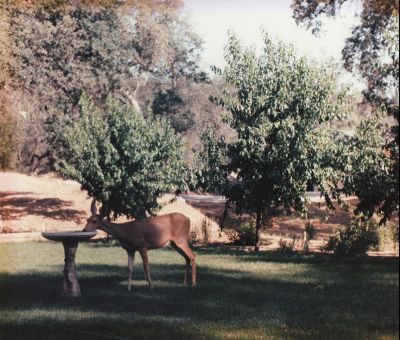 Okay, on a lighter note, you are probably wondering how you can occupy all those leisure hours. Here are a few suggestions:
If you like to fish, Bass Lake is only about 7 miles from town. Be sure and take a lunch so if the fishing is not good you can always pull up a pine tree and use it for shade as you enjoy your goodies. Oh yes, be sure and take a bathing suit as the water is warm and inviting.
Do you like to hike? If so, you can't beat the many beautiful trails in the Sierras.
There are many fabulous art galleries in town for those of you that enjoy the arts. You could spend a whole afternoon observing all the different forms of art.
I bet you like to bowl? If so, fun awaits you at Sierra Lanes – Bowling and Arcades. You don't like to bowl. Okay, how about taking in one of the latest releases at the Met Cinema Theatre.
I bet you have dreamed of being an actor and enjoying the thrill of being on stage. Your dreams can come true as you star in a good old fashion melodrama at the Golden Chain Theatre or you could just go watch and boo the villain.
What about golf, you ask? Yep, we have 2 great golf courses to play. Nine hole Rivercreek and 18 hole Sierra Meadows Ranch Golf Resort.
If you feel lucky, you can always take your social security check and head for Chukchansi Gold Resort and Casino. You will probably walk out of there a millionaire, yeah sure!
You hate to cook, no problem. At last count, I think we had over 30 restaurants in town. We have about every major brand of fast food restaurants and mom and pop family sit down types you could ask for.
If you feel you need some exercise to work off some of those calories you just consumed, you would be more than welcome to join our square-dance club, (the Gold Dust Dancers).
At last, here comes the best part. You remember all that money you won at the Chukchansi Casino; Well, use some of it to buy that Harley Davidson you have wanted all your life. After you get the bike, you and your better half can go shopping for some of those sexy, stylish black leather outfits. Now you are ready to hit the road. I would recommend a trip up the historical Golden Chain Highway AKA Highway 49.
What's that? You say you hate motorcycles. Sorry about that. How about a nice boat: we have 3 great boating lakes, (Bass Lake, Hensley and Redinger Lakes) that you can pull the grandkids around on tubes. Oh, you're afraid of the water because you can't swim? Maybe you would do better just sitting in that lawn chair and watching the deer eat your garden.
If you think Oakhurst might be a great place to live. You're right! So give us a call, or better yet come up and let us show around.